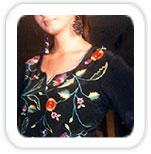 Embroidered tops are the most pronounced apparels in use by people of all age groups. With apparel industry catching up rage in the global market, they make for a great share of exports. This is because they encompass a vast array of designs and embroidery patterns that represent the best of both ethnic as well as modern styles. The kind of embroideries done on the tops are varied. A few customary styles that employ heavy look are as follows:
Resham embroidery
Sequins embroidery
Zari embroidery
Dori work
Dubka work
Besides a hoard of other patterns elegantly sewn include:
Woven picots
Romanian Couching
Bokhara couching
Chikankari
Kantha Embroidery
Mirror Embroidery
The demand for embroidered tops has completely revolutionized the trade of these items across the globe. They call for high export potential and are attracting buyers and manufacturers for all quarters of the world to invest in these ensembles.