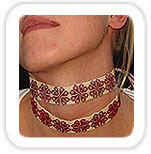 The concept of men folk adorning themselves with jewelry is an ancient tradition, carried forth along civilizations and generations. With changing life styles and times, the creative genius of skilled craftsmen has brought in a new wave of embroidered jewelry.
Popularly known as costume jewelry, it employs the use of a score of materials and such as:
Metal
Wood
Shells and corals
Bone and horns
Glass beads
Jute fibres
Lac
Glass
Resin
Agate
These raw materials are used in varied combinations to produce a host of items such as bracelets, necklaces, bangles, earrings, bracelets, rings, belts, pendants and cuff links. Each of these products involve intricate workmanship in terms of designs and precision to ensure that every piece is unique in itself. With Indian fashion industry spreading its wings globally the demand of embroidered jewelry has also caught up great pace. It is increasingly being valued as an item with highest export potential.