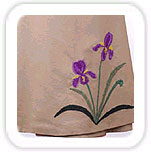 Embroidered skirts form the most popular ensemble worn among women, particularly the lasses. It involves a fabric that flows downwards from the waist where it is either pinned or tied. Embroidery on skirts can be done in a variety of ways depending on the material of the fabric used. Customarily the fabrics used for making these skirts are as follows:
Cotton
Georgette
Silk
Corduroy
Poplin
Woven loomed fabrics
A hoard of embroideries are done on these items. A few common ones include:
Braids
Bullion Knots
Woven picots
Tunisian Intarsia crochet
Romanian couching
Mirror embroidery
Kantha embroidery
Embroidery on skirts in done with both hand as well as machine. It is also custom made depending on the requirement of the customers. The exotic beauty and charm of these apparels have immensely accelerated their demand in not only various parts of India but abroad as well.