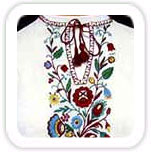 Embroidery stands as one of the most alluring medium of adorning a fabric. Each of these items carry a unique aesthetic appeal that have enjoyed the attention and appreciation of people of all ages.
Most of the embroidered tops are worked upon manually by master craftsmen that ingenuously incorporate new design patterns that line highest degree of perfection and precision that cannot be achieved by automation and duplicated by machines. It characterizes the use of a comprehensive range of high quality textiles such as:
Crepe
Silk ( Raw, Khadi, Handloom and tussar)
Chiffon
Georgette
Cottons, Linen, Muslin
Brocade
The embroidery is either arranged on the chest panel, on the sleeves, or in the rectangular panel above the hem line of the top or a shirt. Embroidery can also be done on printed fabrics. Different types of embroideries coupled with myriad embellishments monopolize the beauty of these fabrics . They include:
Gold zari work
Colored thread / gold coin yolks
Antique sequins work
Kundan and bead work
Resham Kashmiri embroidery
The popularity of these items has scaled great heights in both national as well as international fore fronts and consequently calls for high export potential.