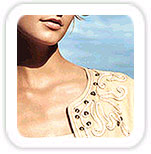 Embroidered jackets present a unique range of apparels that has completely transformed the image of the conventional styles of jackets followed by people since ages. A large number of fabrics have been employed for the creation of these ensembles namely:
Jute
Quilted cotton
Silks
Velvet
Linen
Poplin
Knitwear
Wool
Embroidered jackets are a perfect ensemble for any ceremonial event or an occasion as they add an air of grandeur and regality to the outfit. A score of embroidery patterns are woven on the fabric depending on the cut and shape of the blazer. It may be either done on the collars, the hem lines, sleeves or the chest panel. Embellishments such as beads, zircons, shells and sequins can also be used to enhance the beauty of these jackets.
Embroidery done on these ensembles is done basically done by silk thread and engages a variety of styles such as:
Woven picots
Satin and stem stitches
Kasuti Embroidery
Kashmiri Embroidery
Zardozi Work
Phulkari Embroidery
Braided Embroidery
With the emergence of a new generation of designers, innovative patterns of embroidery along with new styles of jackets have been introduced. Therefore they present a unique range of items whose popularity is catching great pace with domestic as well as foreign folk.