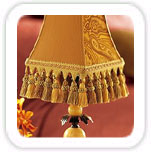 Gift items with embroidery work are in vogue since quite a long time. The intricate embroidery work gives an all the more personalized feeling to them. People generally go more for embroidered gift items these days because of they look more precious & invaluable. The enchanting effect they have on the people is remarkable & they even function as keepsake. They are ethnic and traditional at the same time quite contemporary in outlook. They are absolutely perfect & have versatile usage apart from adding style statements for people of varying lifestyles and tastes. Lot of experiment is done in while doing embroidery on items meant for gifting someone.
Fabrics
The fabric used for gift items mostly are :
Cotton
Denim
Silk
Satin
Velvet
Pure leather
Jute
Flax
Cane
Wool
Color
Vibrant & dynamic colors are often used for items meant for gifts. Bright & soft colors are used as per the varied requirements.
Multicolored
Pastel shades
Red
Purple
Rust brown
Silver
Pink
· Royal blue
Designs & Patterns
There is lot of space given to the artisans to experiment with the embroidery patterns. The artistic touch given to the gift items make them all the more precious possession.
Bead work
Motifs (floral, animals)
Kashmiri embroidery
Lace work · Appliqué
Patch work · Sequins
Oriental images
Geometrical images (stripes, borders)
Types
Gift items with embroidery work are of numerous types. The range differs keeping in mind the varied demands.
Embroidered men's wear
Embroidered women's wear
Embroidered jewelry
Embroidered bedding
Embroidered drawing & dining room furnishings
Embroidered kitchen furnishings
Embroidered decorative (wall hangings, photo frames etc.)
Embroidered accessories (hand bags, slippers etc.)
Manufacturing Hubs
There are so many centers all over India which indulges in the production of embroidered gift items.
Andhra Pradesh
Haryana
New Delhi
Tamil Nadu
Karnataka