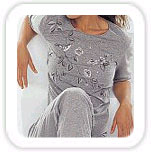 Embroidered t-shirts today, find a place in the wardrobes of both men as well as women folk. Best quality fabrics, unique designs and fine finishes is what lends these apparels their unique beauty and grace. T-shirts voice the energy of the youth and stand for radiance and vivacity. Embroidery on these items have further accentuated the demand for these items in both domestic as well international markets.The patterns and designs employed on these garments are varied. A few among them include:
Floral Motifs
Abstract Motifs
Borders
Braids
Patchwork Embroidery
Applique Work
Besides, representation of traditional miniature paintings with embellishments such as sequins and beads are also catching up great rage among people worldwide. The designs employed are first worked upon by expert technicians that ensure that each piece is unique in itself and lines perfection. With fashion industry fast spreading its wings world wide, the demand for these items is on a constant rise.