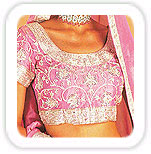 Embroidered lehengas are rich traditional ensembles worn for festive occasions like weddings, festivals and other formal events. A lehenga is precisely a long skirt,touching the ankles with a flair. Their shapes, however may differ depending on the requirement of the wearer. Some common styles frequently employed include:
Fish tail lehengas
Mermaid lehengas
Paneled lehengas
Kali lehengas
A-line lehengas
Embroidery done on these lehengas involve intricate and meticulous workmanship of skilled artisans who even spend many months to create one single piece. The embroidery is also done through machines which engages digitized softwares that ensure fine finishes along with speedier production. Every piece created is a master piece in itself .Embroidery designs customarily incorporated are as follows:
Zari work
Zardozi work
Kundan work
Resham work
Dubka work
Sequins work
They envelop the use a score of fabrics such as silks, crepes, tussar, net, satin, brocade etc. Owing to the rich and royal look that these ensembles represent, embroidered lehengas have caught the attention of buyers from all across the world. The export of these items have only increased with time.