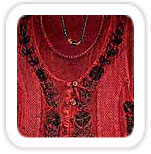 Gowns are apparels basically worn in the western countries but with globalization catching in, they have become popular in oriental countries as well. They are long dresses with a flowing appearance with unparalleled grace and elegance. Embroidery on gowns also display flowing patterns to accentuate the look of these apparels.
Embroidered gowns embody extremely fine thread work done all over the fabric. They are also beautifully embellished using various adornments such as:
Ribbons
Laces
Frays
Sequins
Beads
Doves
Ruffles
Cotton batiste
Zircons
Crystals
A host of rich colored fabrics such as navy blue, deep red, shades of green, white etc. are used for the creation of these fabrics. Thread work done on these ensembles is very intricate and meticulous. It may include floral mesh work or borders along the hem lines. The spellbinding beauty of these clothings have enabled their demand to greatly increase in all quarters of the globe.