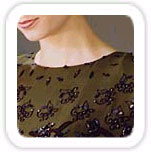 Kaftans are loose flowing apparels like a robe. They are commonly known as house dresses but with new innovative cuts and elegant embroidery rendered to them, they make for prefect evening wears as well. Embroidery on kaftans employs a host of patterns and styles such as:
Kashmiri Embroidery :
This embroidery involves the intricate execution of stitches such as chain, stem, slanted darn, stem, herringbone and knots in concentric patterns.
Kantha Emroidery :
Popularly known as the quilting stitch, it encompasses meticulous patterns sewn with the help of simple running stitch The patterns commonly sewn include jaal, jhod, jhinga, phool, dhan, chori, golak dhaga and many others.
Kasuti Embroidery :
The native art of Karnataka, it involves the use of cotton thread being sewn into meticulous patterns and exquisite designs.
Aari Bharat :
This art form patronizes the use of colorful threads to create intricate motifs and figures in subtle gradations.
Earlier kaftans were exported only in the domestic sectors of the country, but due to their increasing popularity and demand they are now being exported in abroad as well.