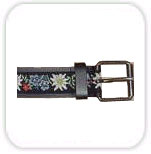 The emergence of embroidered belts has completely transformed the style statement made by these fashion accessories. Informally known as saashes, these items present an optimum blend of unique style and function.
Each of these items are meticulously worked upon with utmost care and precision to confirm highest standards of quality. These belts boast of a vast amalgamation of fascinating designs and exquisite embroidery patterns. Most commonly used raw materials are listed below:
High quality textiles such as intricately woven loom fabrics.
Brocades
Silks, Suedes and Corduroy
Leather and Felt
Wood
Shells and Bone
Jute and Cane
The workmanship depicted by these products is par excellence. Some enthralling combinations are as follows:
Silk tafetta with embroidered silk flowers lined with corduroy and suede ties.
Hand painted white denim lined with colorful beads.
Perforated suede with woven picots
White resin coated denim displaying romanian couching.
Brocade silk border lined with metallic beads.
The primal material for these items are sourced from different regions of the country and then processed with highest standards of precision. Owing to their unique splendor, embroidered belts boast of having great export potential in countries like USA and many others in Europe.