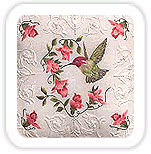 The history of embroidery dates back to many centuries. In a way, they are actually "painting by needle", thus, giving freedom to the artisans to conduct experiments with embroidery. The mere look of the intricate embroidery patterns add elegance & grace to the product. It manifolds the quality of the product's fabric. It even exhibits the varied rich culture through its patterns & designs.
Embroidery gives a face lift to the product's fabrics. Additional like skins, furs, laces & ribbons, to name a few, helps in enhancing the overall look. The main role is played by needle and thread for giving a shape to the designs. Be it any type of fabric ranging from woven cloth of cotton, wool and silk to even leather. Embroidery patterns have been used to adorn any product.
The legacy of embroidery has its roots in different parts of the world. Be it Chinese, Egyptian, European or Indian culture, all have their own saga to describe. There were constant experimentation in this field such as appliqué decoration with leather and beads. Persia, Babylon, Israel, Phoenicia, and Syria were the main centers as per the ancient history. The legacy has continued till date though the production technique has undergone a tremendous makeover.
Indian embroidery differed from others due to the usage of natural colors for dying. The variety is apparent in Indian embroidery with so much of diversity in the culture. Be it the 'bagh' or 'phulkari' stitch of Punjab, the darn stitch of Kashmir or the 'chikan' work of Uttar Pradesh, the 'kasauti' stitch of Karnataka or stitches of Kutch. They are all unique in their own way. Nature and religion are the main source of inspiration for Indian embroidery.
Themes and motifs have remained as such for centuries. Even in the prehistoric civilization probably it was the same (embroidery needles have been found in excavations). The patterns have always been floral, animals, geometric and religious. Each embroidery style has its own history and a story of development.
Embroidery is now not just an expression, it is the means and art of decoration; decoration of clothes, bed covers, furnishings, almost anything that one can think of in fabric.
Types
Embroidery has varied categories depending upon the kind of embroidery work required.