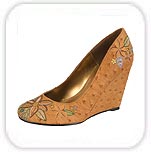 Do wonders when combined with proper attire. They were always in vogue because of their exquisite embroidery patterns. They enhance the personalty with their mere bright colors & unique patterns. They are designed as per the demand of the occasions. Be it wedding, party or any casual gathering. They are made of highest quality materials which are not only eye-catching but comfortable as well.
Fabrics
Apart from leather, embroidered shoes are even made of varied fabric materials simply to enhance their quality & look.
Leather
Suede
Cotton
Canvas
Nylon
Fur
Velvet
Satin
Polyester
Silk
Linen
Color
Vibrant colors are generally used for embroidered shoes keeping in mind the purpose of the footwear to go well with the varied occasions.
Black
Gold
Chocolate
Ivory
Violet
Royal Blue
Sea green
Brown
Maroon
Fuchsia
Emerald
Silver
Multicolored
Designs & Patterns
Lot of experiments are done while doing embroidery work on these amazing footwear's.
Bead work
Border work
Floral motifs
Lace work
Leather slides
Sequins work
Jari work
Aari work
Sequence work
Thread work
Metallic embroidery
Types
Embroidered footwear's are available for different purposes. Some of them are exclusively meant for specific occasions where their place cant be substituted by any other footwear.
Jutis
Sleepers
Platform Sole Sleepers
Wedding Shoes/ Jutis
Wedding Sleepers
Pure Leather Shoes/ Juties
Party sandals
Manufacturing Hubs
There are many centers in India which are exclusively dedicated in embroidered shoes making.
Maharashtra
Uttar Pradesh
New Delhi
Punjab
Rajasthan
Haryana
Gujarat
Tamil Nadu
· West Bengal
Export Markets
Embroidered badges are greatly exported to : Indian embroidered shoes have a massive demand on the international front. Some of the major buyers are :