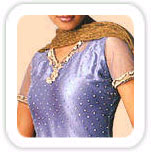 Salwar Suits or salwar kameez is a typical Indian ensemble for women with grace and elegance unbound. "Salwar" is a loose pajama like lower that has a loose fit which is tied to the waist with a cord. "Kameez" stands for a kurta like ensemble that is worn through the upper part of the body. The elegance of kurta lies in the way it flaunts the cuts, the material it is made up of and the kind of embroidery it employs.
Embroidered Salwar Kameez make for impeccable clothings for all occasions right form everyday use to formal events. The kind of fabrics used for making embroidered salwar kameez are as follows:
Silk
Chiffon and Georgette
Handloom fabrics
Cotton
Lizy-bizy
Crepe
A host of embroidry styles and embellishments are employed to adorn these apparels. A few common types include:
Kantha Embroidery
Banjara Embroidery
Banni Embroidery
Chinkankari
Zardozi Embroidery
Mirror Embroidery
The popularity of embroidered Salwar Kameez is taking great strides not only in the Indian but global markets as well. They call for high export potential and are already being exported in many countries of America and Europe.