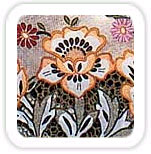 Since the earliest fabric samples of 3000 B.C. we realise that human beings have wanted to enliven their surroundings clothing, toiletries and linens by adding hand work of some kind over the woven fabrics.
Different areas of the devised their own peculiar styles. The type of thread, colors, motifs and presentation of each area and style are unique. Each region had a few stitches unique to their style. The motifs were related to nature and religion and everyday life of people.
Religious embroideries spanned the breadth of the age of the many religious organizations and royal courts. Hand Embroidery art had patrons just like other art forms. These embroideries include gold threads or zardosi, chikankari, kasuti and kashmiri.
Chikankari is said to have a Turkish impression though it is mentioned in the records of Megasthenes in 3rd century B.C. Kashmiri embroidery is colorful with symbols like chinar leaf, apple blossom, lily, the saffron flower and the fauna of the region. Phulkari has brightly colored flowers on coarse cotton. Beadwork and Zardosi are Mughal introductions where as mirror work is typical to Gujarat and Rajasthan. Kantha' Embroidery of Bengal makes imaginative use of waste rugs and Kasuti is famous for religious themes.
Machine Embroidery may have become common these days and perhaps more economical but theuniqueness, variety, intricacy, art and fineness of hand embroidery is unmatched and as yet unchallenged.