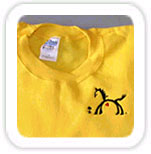 Sweatshirts are a part of casual clothing that resemble a sweater. Primarily woolen in nature, sweatshirts have dominated the consumers' wardrobes since the time of its inception. Their utilitarian value lies in the fact that they can be worn for almost all kinds of occasions.
Embroidery on sweatshirts has further accentuated the look and consequently the demand for these items. Embroidered sweatshirts come in varying styles, some of which include:
Hoodies
Blank hooded sweatshirts
Music sweatshirts
Skateboard sweatshirts
Corporate sweatshirts
Band sweatshirts
Vintage sweatshirts
Embroidery on each of these sweatshirts is specifically done keeping in mind the occasion and purpose they are worn for. Corporate sweatshirts primarily carry a logo or a motif carrying the company initials or its name where as those worn by musicians and band members are heavily adorned with various embroidery patterns and intricate styles. Embroidery designs are generally derived from three sources as follows:
Custom Graphic
Stock Design
Text Design
The technology employed for doing embroidery on these sweatshirts is highly advanced that ensures absolute control of the process, best quality and speedier production.