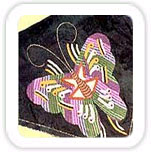 India has a rich heritage of producing some of the most exotic pieces of beauty in terms of apparels. The subtle designs created by master craftsmen and the emergence of different techniques of embroidery has led to the production of some of the most alluring scarves ever made. This has further helped manufacturers tap the export potential of embroidered scarves in the national as well the international market.
The host of myriad patterns and sizes are employed to give these pieces a totally unique look. Some common styles created are as follows:
Bandhani with sequin work on it.
Kantha embroidery displaying intricate patterns
Phulkari embroidery on plain silk scarves
Rabari embroidery with tassels and laces
Floral and patchwork embroidery patterns.
Beaded embroidery
The sizes of these items may be triangular, square or oblong. The fabrics used for the manufacturing of these items include:
Cotton
Rayon
Georgette
Pashmina
Silk
Chennile
Velvet
The edges of these scarves are either rolled, hemmed, fringed or frayed.