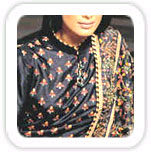 Kurta is a loose ethnic ensemble worn through the upper part of the body.It has a closed neck and length up to the knees. Although,it is precisely worn by men, they have become highly popular among women folk as well. Embroidery on kurtas is basically done around the four-button front, on side panels and pockets or cuff slits. Some common types of embroidery patterns done on it are as follows:
Floral : This basically employs satin stitches with colorful cotton or silk threads.
Kashmiri: Kashmiri embroidery employs the fine patterns in concentric layers.
Phulkari : This is the traditional art, native of Punjab and beautifully displays floral motifs.
Chikankari : Chikankari form the rich art of Lucknow, which involves the use of a white or a colorless thread to form a fine mesh through shadow work.
Embroidered kurtas make for perfect ensembles for all kinds of occasions be it for casual, day to day or a party or a festival. Fashion designers have further added their innovative instinct to bring about the best collection of kurtas that encompasses both traditional as well as modern styles. The very reason they have become so popular among men folk all over the world.