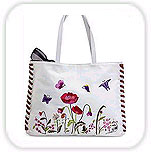 Handbags are a deviation from the traditional carry bags that were used only for utility purposes. They now represent a unique blend of modern and classic styles, lining beauty as much as utility. Embroidered handbags are a craze in all the age groups as they are items of day to day utility and display exquisite workmanship.
There is no limit to the variety of bags that display exquisite embroidery. Most common types are as follows:
The score of materials used for the making of these bags include:
Fabrics such as cottons, corduroy, velvet, silk, organza, wool and denim etc.
Pure/Faux Leather
Jute
Flax
Cane
The embroidery done on these items ranges from patterns like coronets and braids which includes various geometrical, floral and abstract patterns in fascinating colors. Some items exhibit stitching styles like Romanian couching, french knots , lattice, stem, satin, Cretan stitches etc. coupled with embellishments such as beads, sequins and tassels. The demand for embroidered handbags have immensely risen in the last few years making them most sought after products for export.