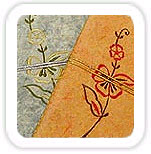 The invention of embroidery machines devastated the hand embroidery industry, causing major economic crises in many parts of the world. It is the common allegation that machine embroidery has to go with.
It may have been true in that era when most of the people were adept in hand embroidery. Gradually, machine embroidery has developed as an individual art. The machine embroidery involves as much dedication and technique as hand embroidery. The speed may have increased but the patterns are still the same. The representation may be different, themes are still the same.
The motifs can be floral, religious, natural surroundings, geometrical or realistic, the fineness comes with practice as in any other art. In the beginning, it may have been the imitation of the handwork, contemporary machine embroidery is an original, unique art form.