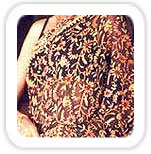 Saree makes for one of the most fascinating and alluring drapes that defines the elegance and poise of a woman like nothing else. Along centuries, no ensemble has been able to match the grace and glory of embroidered sarees making them the most sought after apparels since ages. The fabrics used for making embroidered sarees are varied. Some common types are as follows:
Silk
Georgette
Chiffon
Crepe
Brocade
Chanderi
Handloom fabrics
Sarees are named depending on the type of embroidery employed and the state that they are made in. They feature a host of styles some of which are as follows:
Chikan Sarees: Chikankari is a fine and meticulous shadow -work type of embroidery done using white or colorless muslins called tanzeb.
Chanderi Sarees: Usually in subtle hues, chanderi sarees are cotton ensembles displaying gold checks and lotus roundels known as butis.
Jamawar Sarees: The designing of jamawar engages finest motifs and patterns such as paisleys.
A score of other embroidery patterns such as florals, geometrical, Kasuti, Kantha, Phulkari, etc. are beautifully worked upon by skilled craftsmen and artisans. The demand for embroidered have caught up pace in almost all the quarters of the globe, making them the most sought after ensembles for all occasions.