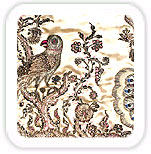 Metallic threads, as their name suggests, are fibers that reflect metal like lustre and radiance. Of late, they have found their uses in a variety of applications, particularly addressing the needs of the fashion industry. With more and more people exercising their creative genius, a hoard of innovative products have emerged revealing embroidery done through metallic threads. Some of them are as follows:
Apparels
Accessories like wrist bands, caps and belts
Handicraft items
Lamp shades
Bags
Book covers
Metallic threads are comparatively less strong and are therefore used with great care. The designs and patterns embroidered using them reveal some of the most fascinating styles that simply captivate the heart of the beholder. The commercial value of these products is very high as they make for spell binding fibers. Their demand is catching on great rage as products revealing embroideries done through them are highly popular.