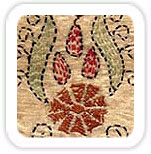 A form of embroidery in Karnataka, it is called Kasuti there and means same as kashidakari or embroidery. It has also been desiphered as art of cotton thread and hands. The art was practiced by ladies of Maharashtra and Karnataka specially in Dharwad and Bijapur. The embroidery gives an exquisite effect to the soft furnishings
History of Kasooti
Its origin goes back to the Chalukya period that is 6th to 10th century. It was a period when many arts flourished. It is a treasured art of karnataka and ladies adept in this are highly treated.
Process and stitches of Kasooti
The geometric designs of Kasooti are derived from the temple sculptures. They depict bells, chariots birds and animals. There is a strong resemblance between kasooti and Rangoli motifs, only that rangoli is done on floor at the doorsteps of houses and temples and Kasooti on fabric with needle and thread. The similarity of the motifs can be because both the things are done by the lady of the house, one as a religious ritual and another to occupy her after the household chores. The pattern is never drawn on the cloth. The design remains in the mind and is recreated on the cloth directly with the needle and thread. The colors traditionally used in Kasooti are brighter shades of red, orange yellow and purple. The stitches involved are running stitch (Neyge) and cross stitch (Menthya), Murgi and Gavanthi. There are about 700 designs under categories like Gopi Kamala Chittu Kamala, Gundala Gopura, Dagabaji Gopura, Gandolagida, Tulasi, Peacock, Elephant, Lions, Vankipatti, Kayapatti etc. The pattern is created in such a way that both the sides of the cloth have similar in appearance. Earlier only cotton threads were used on the cotton cloth now the silk fabric is also used.