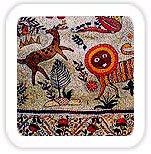 The beautiful quilting stitch. Actually the stitch is simple running stitch. It is the way it has been used that makes it extra ordinary. The cloth was given layers that were kept together by the stitches. The cloth had multiple uses. It could be used to sleep on or as a light blanket. Kantha for the Bengali folk means embroidered quilt. Kantha is said to be dorukha meaning turning the worn out and old textiles and fabrics to things of beauty.
History of Kantha
Kantha evolved out of necessity to drape or protect against cold. Kontha on Sanskrit means rags. It can rightly be called the recycling art. The precious silks and muslins when became worn-out, women instead of throwing them away, piled them in layers and stitched.Another legend relates kantha origin to lord Buddha and his disciples. It is said that they used to cover themselves with the thrown away rags patched and stitched together.
The oldest reference to Kantha is in Sri Sri Chaitanya Charitamrita" by Krishnadas Kaviraj Which was written some 500 years back. Kantha was said to be a lady's self expression. The real kantha narrates a story, the emotions and the life of the artist.
Process and Stitches of Kantha
The process involves laying the worn clothes in layers and stitching them together. Though the stitch used is variations of running stitch, the motifs can range from being simple to very intricate. It is a typical example of how a simple stitch can create elaborate motifs. Usually the motifs are gods and goddesses, flowers, animals or geometric patterns that means it can be anything the worker can relate to. There are seven different types of kantha based on how it is made and the end use.
Archilata kantha
are small, covers for mirrors or toilet accessories with wide, colorful borders
Baiton kantha
are square wraps used for covering books and other valuables. They have elaborate borders
Durjani/thalia
these are quilted wallets made out of rectangular kantha pieces
Lep kantha are rectangular wraps heavily padded to make warm quilts. The whole piece is stitched in a wavy pattern. Simple embroidery is done on the finished quilt.
Oaar kantha
are pillow covers in simple designs. A decorative border is sewn afterwards.
Sujani kantha
are decorative quilted kantha used as blankets or spreads during religious rituals or other occasions. This started in 18th century in Bihar.
Rumal kantha
are used as absorbent wipes or plate coverings. They also feature a central lotus with ornamented borders.
The various patterns are called jaal, jhod, jhinga phool, dhan chori, golak dhaga and many others all created by different placements of the running stitch.