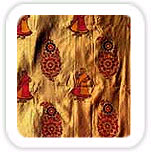 Aari embroidery is done primarily by the Muslim cobbler community in India. The designs are of Mughal origin since the art was at one time patronized by them. By using subtle gradations of color the figures and motifs in the designs can be highly representational. Aari at times is also called zari work. The zari thread or the metallic thread if quite commonly used in this style of embroidery. It is done with colored thread as well using color gradations to make the motifs and figures highly representational.
Process
The word aari comes from the hooked needle used in the embroidery called the aar. It is similar to the one used in crochet.
The fabric is first fixed over the frame often made of bamboo. The pattern is traced on it and the embroidery work begins. A needle with a hooked end and Zari (gold or silver) or cotton or silk thread are used. Ari looks like a fine chain stitch. The needle is pushed through the fabric. From behind, thread is pushed into the hook. When the needle is pulled up again, it comes up with a loop. The next time, the needle goes through the loop and comes up with another loop through the previous loop. The same process is repeated. The stitches are very fine and small.
Very intricate embroidery is done with the ari technique. The tension of the thread has to be maintained whole working. After the embroidery part is over the stitches are beaten using a wooden mallet from the top on a handheld wooden anvil placed under the fabric. It is an art carried by men. Women are not supposed to learn this art.