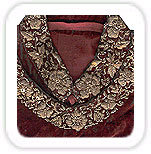 The use of metal embroidery in Indian textiles and costumes, especially the ones used for special occasions or ceremonial purposes, demonstrate the importance of gold and silver within the culture.
Zari, that means "gold" in Persian, refers to the metallic threads used in weaving. Zardozi embroidery involves the use of different shapes of metal wire like springs, coils, strips, ribbons and discs. Embroiderers carefully select from an elaborate assortment of components to create their own unique designs. The wedding vest is heavily adorned with such embroidery.
Zardosi is also called Ari and was at its peak in the Mughal era. The art declined for lack of precious metals for the purpose and high costs. It was again revived in 20th century with the use of plated copper that reduced the costs and gave the same effect.