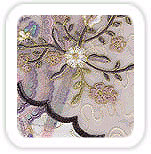 Embroidery is a fabric art. Leather Embroidery is a later invention. Embroidery is the embellishment of cloth with designs made by needle and thread. Different types of fabric, threads and techniques are used for fabric embroidery. They are affected by the region, religion and other crafts of the region.
This art of decorating fabric is the most antique form of clothes adornment and is unique to each place. Kashmiri embroidery was initially done on woolen Fabric with woolen thread. The motifs and colors are typical representations of the nature. Rumal Chambal is silk embroidery on even weave cloth. Phulkari is bright bold florals on coarse cotton cloth. Chikankari is Indian whitework on fine muslin and kantha is simple running stitch on quilts or quilted cloth.
Kasuti is the unique sari embroidery of Karnataka that uses religious motifs. And Zardosi uses metal thread on fabric. Mirror and bead work of Gujarat and Rajasthan have made a niche for themselves. There are so many other forms of embroidery each different from the other. Even the forms having a common origin that later developed in different region differ.