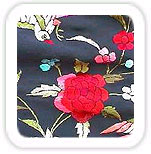 There are basically three embroidery styles owing to the color used. They are white embroidery, black embroidery and colored embroidery.
White embroidery was done in Egypt, India and Western Europe. It is still practiced as Ayrshire Needlework , Chikankari and Whitework. Egyptians used white thread on white background, Dresden work of Germany used embroidered lace and Ayrshire Needlework belonged to Scotland. The English and Czech had unique whitework with satin stitching and cut work. In India white embroidery is practiced as Chikan work. The thread used is white the base is generally white though light, dull colors may be used.
Blackwork is a counted-thread embroidery worked in geometric designs with black silk and metallic threadon even-weave linen or silk. In England, on clothing items, the favored color was black on white. When the same designs were executed on samplers or household linens, they may be found in pastels The style involves outlining or defining elements and filling elements. The Elizabethans frequently called blackwork Spanysshe work.
Color Embroidery is more realistic and earthly. Bright colors beads and shells were the expression of common man in needle and thread. The religious themes lifestyles and nature are the common themes. Though intricate, colored embroidery in various styles and stitches was done by the most down to earth tribal people and farmers to the most aristocratic and rich.