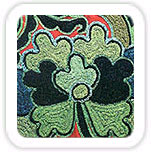 Braided embroidery encompass patterns that resemble a platted knot.They are exploited in a number of ways to produce some of the most elegant combinations to adorn various fabrics. Braids can also be embroidered as borders lining the edges of apparels. Some common types of embroidery patterns that can be formed using braids are as follows:
Floral patterns
Leaf patterns
Traditional motifs such as paisleys
Braids can also be harnessed in the form of applique and patchworks to be used on a variety of objects such as:
Handbags and purses
Apparels
Bed linens
Kitchen linens
Towels
Drapery
Tapestry
The embroidery is basically done using machines which not only render fine finishes of designs but speedier production as well.