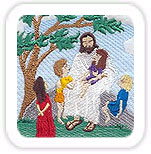 Religion has been one of the most common embroidery themes not only in India but in other countries as well. A cloth embroidered with religious symbols is considered auspicious. Pictures of deities and symbols of different religions are widely put to a large number of applications.
Karnataka's Kasuti embroidery is based on religious themes. Whether the embroidery is on a saree or a ceremonial cloth, the themes are the same, the symbols are modified to give a new look and a crafters' imagination plays a great role in this art.
Orissa's applique embroidery and mirror work is all based on religion. The Puri Rath Yatra, the umbrellas, the fans all are the symbols of devotion to Lord Krishna. The ceremonial cloth and other fabric products used during the famous Rath Yatra are all embroidered with religious symbols in colorful threads and gold and silver or other metallic threads.
Chambal Rumal, the artistic embroidered representation of the Pahari miniature paintings is influenced by Mughal miniatures. They are called rumals because the cloth is invariably square. The subject of the embroideries have been based mainly on religious themes comprising Hindu deities, floral motifs, birds and animals. The Raas Mandal and Krishna theme have been particularly favored.
Chikan kari is said to have a divine evolution. Phulkari of Punjab is an essential component of any religious or cultural ceremony. It is not just the religious patterns that make a style religious, the very process and art of embroidery was at one time considered divine and a religious act.
Application of Religious Embroidery
Wall hanging
Clothing
Fashion accessories
Bags
Fashion jewellery