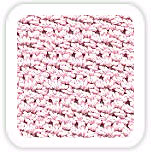 The term lattice means interlaced or ornament composed of interlacing figures. In knitting, it describes a pattern of squares where each square is knit at right angles to its neighbor. The resulting pattern resembles a basket weave pattern. In knitting books, the pattern is also called basket stitch, birch stitch, trellis, woven lattice and diamond weave.
An off-loom weaving technique, there are at least two way of doing lattice stitch, horizontal and vertical. The horizontal lattice stitch has soft, flat edges, where as the vertical stitch has pointed edges at the end of each row. These can be worked flat, tubular and flat-circular and dimensionally. Most patterns of lattice stitch are either knit in one piece or grafted together along edges of squares, thus no visible seams.
These stitches can be made with a shiny rayon yarn, or a silk blended thread as well as in cotton yarn and wool. The fabrics used for lattice stitch are fine thin fabrics like linens and other even weave clothes. The patterns may include a cushion cover, jumpers for children, women and men, an all-in-one women's jacket, hats and headbands, a bag, shawls, waistcoat and elegant sweaters, shawls and pillow designs. This stitch is commonly used in Indian white work called chikankari.