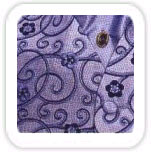 Silk fabrics hold the lineage being one of the most popular fabrics since ages. It is considered to be the oldest textile fibres known to man. The luster and sheen of silk fabrics is what makes it most sought-after for varied usages. Embroidery on silk fabrics basically involves the adornment of the textile using threads and various embellishments. This employs the application of a host of stitches in varying patterns and styles, some of which are as follows:
Satin stitch
Chain stitch
Zardozi work
Kasuti Embroidery
Ahir Bharat Embroidery
The embellishments used to decorate these textiles includes:
Beads ( wooden, metallic )
Tassels
Zari
Laces
Glitters
Embroidery on these fabrics is done either done through hand or machines. Embroidery done with hand involves intricate thread work inspired by ancient art forms of India. Machines used for embroidery employ a comprehensive range of designs that are first worked upon by expert technicians to ensure that these are best quality products with fine finishes.
Embroidered silk fabrics are available in combination with varied other fabrics, such as :