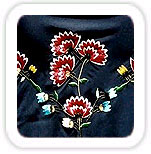 Polyester fabrics are another variety of man-made fabrics that have gained popularity owing to their various properties. The embellishment of these textiles through embroidery has added a new dimension to the beauty of these fabrics. The threads used for embroidery majorly include polyester fibres only because of the following attributes:
They are strong, crisp and soft
Resistant to stretching and shrinkage
Quick to dry and resilient
Excellent pleat retention
The application of embroidered fabrics are varied as they not only have high utilitarian value but also present an exotic collection of colorful and exquisitely designed textiles. They can be used for various purposes like:
Casement curtains
Throw rugs
Bed linen
Drawing and dining linens
Apparels
Bathroom furnishings
Kitchen linens
The embroidery done on these fabrics present a colorful combination of beautiful patterns and a host of stitching styles such as woven picots, romanian couching, french knots etc. The popularity of these fabrics have made a big mark in both domestic as well as foreign markets.