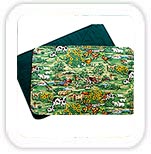 Embroidered place mats are meant for different kind of tables as they simply enhances the beauty of these furnitures. They give a touch of sophistication, tidiness & coziness, hence, imparting a finished look to the area. Maximum versatility can be felt automatically at the dinning room. Place mats with intricate embroidery patterns, exquisite designs, vibrant hues adds elegance to whichever area they are adorning.
They are found in a wide range, giving an expansive option to buyers to gel them well with any interior design of the decor. Place mats are available in different fabrics with varied assorted colors & painstakingly crafted embroidery patterns. Embroidered place mats can be hand-dyed & hand-woven.
Fabrics
Place mats with intricate embroidery work are made of fabrics which apart from serving as beautiful accessories should as well be qualitative & durable enough to withstand dirt & stains. Some of them even have a padded look, thus, having a solid base & longevity.
Linen
Cotton
Quilted fabric
Colors
Generally, place mats are offered in bright hues to improve their sustaining capacity. But they are also found in soft, soothing colors.
White
Red
Cream
Brown
Black
Green
Pink
Yellow
Designs & Patterns
Place mats are crafted with detailed embroidery work by artisans, hence, improvising the backdrop.
Crochets
Graffiti embroidery
Cut work
Stitches (hemstitch, cross stitch)
Appliqué
Paisleys
Floral motifs
Geometric patterns
Abstract patterns
Embroidered prints (stripes)
Embroidered lace work
Manufacturing Hubs
The centers where embroidered place mats are manufactured in abundance are :
Uttar Pradesh
New Delhi
Tamil Nadu
Haryana
Gujarat
Andhra Pradesh
Maharashtra
Kerala
Rajasthan
West Bengal
Punjab
Export Markets
International buyers of Indian manufactured embroidered place mats are :
UK
USA
Holland
Australia
Singapore
Canada
Europe
Gulf Countries