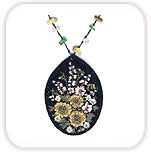 Necklaces are embellishments used for draping the neck line and forms one of the most sought-after items in a lady's jewellery collection. Indian craftsmen have mastered the skill of making a host of diverse necklaces by employing various raw materials and techniques in a highly creative manner. Some common ones are as follows:
Lacquered Necklaces: These necklaces are made up of lac, a resin like material that is melted and then casted into various shapes. They make for fascinating pieces of jewellery as they involve the use of variously sized mirrors and colored beads placed in alluring patterns.
Shell Necklaces: These necklaces employ the use of shells of different shapes. With material like jute as its base, these shells are intricately placed in varying styles.
Beaded Necklaces: Beaded necklaces form the most popular category of embroidered necklaces. It involves the arrangement of colorful beads of different materials such as glass, lac, silver, crystal, agate and even precious and semi precious stones. These beads are elegantly placed in different fashions which present a splendid look to the wearer.
Sequins embroidered necklace: These necklaces primarily involve the use of a layered fabric such as leather as a base. Embroidery with vibrant and colorful threads is then done on these fabrics. They are further embellished with multi -hued sequins that lend a fascinating look to these items.
The emergence of embroidered necklaces has completely revolutionized the demand for Indian necklaces abroad. With fashion industries, the world over catching up pace, the demand for these items have multiplied in the past successive years.