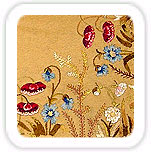 Embroidered linen is a very elegant fabric known for its durable & refined luxuriousness. Linen, considered to be three times stronger than cotton, has numerous applications. Linen is initially made from flax which is a bast fiber originally taken from the stalk of the plant. The fabric can be easily dyed & helps the color to be fixed for a long duration. They are available in great range of hues with interesting patterns & designs.
What sets this particular fabric from others is that it has a comparatively cooling effect in garments. It's absorbent & heat conductivity adds to its plus points. Though it easily gets wrinkled, the fabric is still a preferred one for a wide array of purposes.
Fabrics
Linen is greatly used for household purposes. They are, therefore, made of a medley of fabrics such as :
Cotton
Silk
Satin
Polyester
Other blends
The linen are available wide varied embroidered patterns as floral, striped etc.
Color
Linen fabric is available in vibrant hues which makes the fabric all the more adorable.
Creamy white
Light tan
Violet
Purple
Burnt orange
Blood red
Multicolor
Types
Linen fabric with embroidery or has vast applications. They are widely used for :
Linen Care
Linen demands a lot of care to protect its rich luster from sun, rain, soil and the flax plant. This increases the longevity of the quality. In fact, there is a particular way of laundering the linen item & dry cleaning it. One should read the guidelines provided by the manufacturer when buying a linen fabric. Instructions are given keeping in mind the composition of the thread and trimmings, dyes used, treatments for crease or stain resistance, tightness of weave and construction of the textile.