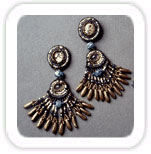 Indian embroidered earrings are an exquisite range of jewellery items that have caught the attention of women folk all over the world. Popularly known as custom jewellery, these items form great style statements for all types of occasions and events.
The art of making embroidered earrings originally took birth as a rural art, practised by the tribal folk in villages. Due to their unique appearance and use of colorful threads and embellishments in a most innovative manner, a host of people are now being employed by fashion designers to produce more and more of these items.
These earrings employ the use of a hoard of traditional adornments such as:
Shells
Sequins
Glass, metal,wooden and lac beads
Colorful crystals
Glitter
Colorful embroidered patches
Bones and horns
Ivory
The designs and patterns displayed by these items are inspired by traditional motifs on monuments, artifacts and apparels to flowers, leaves and a hoard of other objects found in nature. The demand for these items has caught great rage in domestic as well as foreign arena as they have a rustic appearance and are economical as well.