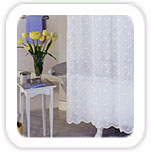 The exotic charm and charisma of embroidered curtains have simply mesmerized the people form all over the world. Curtains make for one of the most pronounced home furnishing for home décor. The shades of threads used in embroidery are so soothing and fresh that they can blend and brighten any kind of surroundings. Fabrics used for making embroidered curtains envelope the following:
Cotton
Organdy
Tissue
Hand loom fabrics
Polyester
The patterns of embroidery harnessed reveal the precision and creativity of skilled craftsmen and artisans. Each piece is intricately worked upon to conform unique style patterns and never-seen before items. Some common types of patterns sewn are as follows:
Floral borders of motifs
Patch work
Shisha work
Phulkari Embroidery
Banni embroidery
Stitches such as bullion knots, stem stitches, chain stitches and a host of other styles are employed to produce spellbinding designs. Embroidery done with machine use techniques that deliver finest finishes and precision. The precise reason the demand of these items so massively increased in the last few decades.