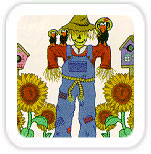 Dakota Collectibles Embroidery design center was established in 1988 by George and Jerry Westphal, who, at the time, were in the retail embroidery business.
They recognized the need for stock embroidery designs high in quality, reasonably priced, and that could be delivered in a timely manner. Thus they decided to start a business that would fulfill this need and. Dakota Collectibles was the first to enter the large-volume stock design supplier market. The designs became famous as Dakota Embroidery Designs.
They created designs keeping in mind the customer (embroiderer's) needs and the endproduct receiver's needs. They constantly come up with new patterns to cope with the changing trends and requirements. They keep adding to their collection of themes and patterns.
With distributors and customers from all over the world, Dakota Collectibles is one of the world's largest supplier of stock embroidery designs.