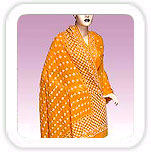 Indian saree has never lost its charm inspite of the emergence of varieties of Indian women wear. Saree is every Indian woman's desire of perfect attire, that stays forever in the fashion scene.
Indian Chikan work sarees are very popular for casual as well as formal wear. It gives a very pure relaxing comfort. It is one of the most favored sarees by Indian women. Chikan embroidered sarees can be worn in festive occasions as well as a daily wear. Chikan sarees are office wear saris, worn by teachers while going to schools/colleges, lady doctors and housewives in their daily wear. Apart from traditional and contemporary collections of chikan saris for middle- and old-aged women, trendy chikan sarees for youngsters are also available in the Indian Market. Chikan sarees give a sophisticated, feminine, graceful and elegant look to any lady.
Cotton is the most preferred choice of fabric for chikan saree. It is available in all shades of colors but the most favored ones are the light pastel shade colors. Chikan sarees in voile, organza, polyester, chiffon, viscose, georgette, polyester georgette, cotton crepe are also available. The designs keep on changing as per the market trends, with colors that perfectly match with the season. The stitches and the workmanship used in these sarees vary from light embroidery to heavy embroidery.
Chikan embroidered sarees with their incredible embroidered patterns are just collector's items.